DILEMMA OF FINDING A JEWELRY WHOLESALER
In the market for a Jewelry Wholesaler, with a myriad of choices available both offline and online, it becomes a tough task to find a jewelry wholesaler who ticks all the boxes. It is with this agenda that we have created a guide with the help of seasoned jewelry artisans and industry insiders which in turn will help you find the ultimate jewelry wholesaler. 

Take Your Search Online!

With advancements in technology, the World Wide Web has made things easier. Finding a jewelry wholesaler isn't a chore anymore. Now, you can find what your heart seeks at the tips of your fingers. And what's more, you ask? Well, this trick applies through all industry verticals, be it your favorite apparel or any you desire, everything is just a click away! Besides using the World Wide Web for entertainment purposes, one can also search for business and work-related requirements. Likewise, when looking for a jewelry wholesaler going online with your search is your best bet. For best results, below are a few things you need to keep in mind.
1. Finding a jewelry wholesaler through keywords
If you search online, you should not only search for general wholesalers or distributors. Make sure to include keywords from your product, and try product name, model, and brand. Then, after typing the specific words in the search bar, look at the search results. The more potential wholesalers you find, the better you can compare industry prices, as well as get competitive quotes.
 
Advantages of keywords on search engines: 
(1) Filter your search based upon your requirements
Finding jewelry wholesalers online is as easy as counting 1,2,3. But finding one that suits your requirements can be a challenge. This challenge can be easily met albeit with the right selection of keywords. To find the best-suited wholesale jewelry, we need to be definite about the type of jewelry you are looking for, and then choose the one that meets the criteria. Whether you are looking for fashion jewelry, antique jewelry, imitation jewelry, gold, diamond, or platinum jewelry. The right results only pop up with a crisp selection of keywords. 
(2) Keywords help in finding the latest trends
Right keywords can help you in finding the type of jewelry people are interested in. For example, you can know from your research results that women's butterfly bracelets and anklets are becoming popular with the arrival of spring 2021. So, along with finding a reliable jewelry wholesaler, you can also know about the latest jewelry trends. 
Disadvantages of keywords on search engines: 
(1) You may be the victim of keyword stuffing
Sometimes, some wholesalers who are more focused on marketing will update their website content with the latest jewelry-related keywords. They pile up a lot of keywords to make the website appear at the top of the search results, but the product or service quality may not be so good.
(2) You may be confused about the choice
Entering some keywords in Search Engines is a good start, but the trouble is that you will need to browse many pages with search results, and the wholesaler you are searching for may not be displayed on the Top page.  This is because most wholesalers have no awareness of optimizing their websites for search engines. Therefore, you need to be very patient and persevering, and try to use different search terms, such as wholesalers, distributors, suppliers, resellers, and so on.

Precautions of keywords on search engines: 
(1) Choose Specific keywords
Whenever you start a new search always make sure that the keywords you are using should be specific. Words like Wholesale Stainless Steel Cuban Chains, Wholesale Butterfly Necklace For Women, and custom 3D design pendants are specific enough for search, which will save your time and efforts in locating the target suppliers.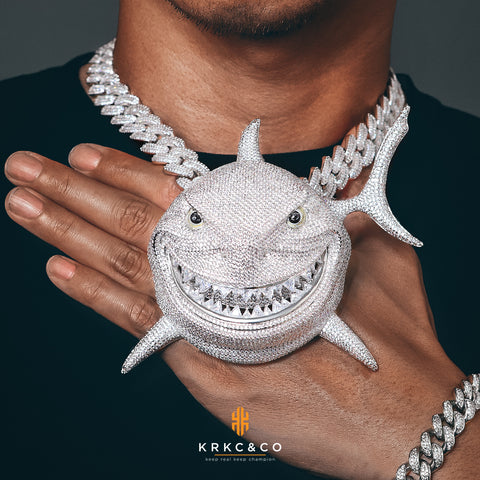 (2) Search for more results
When searching for wholesalers, please try to find the email address or phone number so that you can contact the wholesaler and get more information. Then try to make a list of wholesalers so you can compare prices and conditions and make the best choice. Always make sure that the wholesaler you are dealing with is credible enough; especially if you are dealing with gold, diamond, or platinum jewelry. 
(3) Try the different search engine
In addition to a basic Google search, you can try the other alternative and very effective methods to find a reliable source. Like the "Wholesalecentral.com" search engine. Simply enter the search term for any product you are looking for, and a list of independent suppliers for the product will be displayed for you. This is a very simple way to use, still using the idea of ​​search engines, but using a specific wholesale search engine to narrow the number of returned results, which makes it easier for you to check individual suppliers.
 
2. Finding a jewelry wholesaler by B2B platforms
There are plenty of trusted B2B sellers are available online who have boosted their virtual presence as they know the potential of virtual business relations in today's technological era. Alibaba (Alibaba.com) is one of the largest B2B markets for manufacturers, importers, and wholesale distributors. Other B2B markets include:
Global Sources (United States)
Buyer area (United States)
EC21 (South Korea)
EC Plaza (South Korea)
Busy trade (Hong Kong)
 
Advantages of B2B platforms: 
(1) Lessen your time and cost
On the B2B platform, you can compare product prices and supplier strengths more conveniently. You can order online without having to write and respond to emails. Meanwhile, a rightly selected jewelry wholesaler can help in cutting down your costs in large quantities of products and make your business processes without a hitch. 
(2) Helps in reaching new markets
On the B2B platform, there are more business links and approaches to help you grow at a faster pace. In addition to supplier resources, you can also find the industry development trend, the technological development status, the product update speed, the merchants of the same category, other industry lines with development potential, etc. Therefore, it will be an added advantage for your business in the long term. 

Disadvantages of B2B platforms: 
(1) Unable to realize the one-stop purchase
Many suppliers on the B2B platform have neither brand advantages nor category advantages for their products, which cannot meet the one-stop purchase demand. At the same time, most companies do not have complete supply chain systems and stable supply organization ability. Therefore, stock-out problems frequently occur.( However, in KRKC, 95% of items are in stock.)
(2) Unable to judge product quality
To be honest, the level of merchants on B2B platform is relatively uneven. In addition to product pictures, it is almost difficult for you to see other information on the platform. As a result, for the same product, you can see different products with almost the same product pictures on the platform, but the quotations are different.

In addition, it is difficult for you to know the details of the production line and equipment. Therefore, you cannot judge the production ability and the brand strength of the enterprise. (However, in KRKC, all products are designed and produced by ourselves.)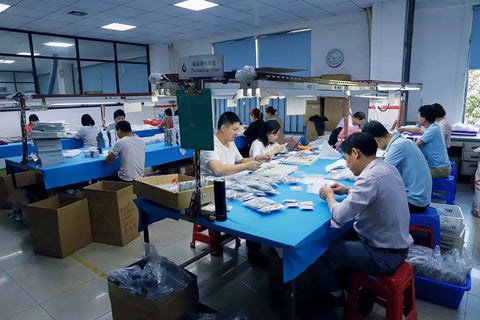 Precautions of B2B platforms: 
(1) Ask for more information
Stay attentive to your needs and always ensure whether the wholesale jewelry can be supplied as per your requirements. Do not be afraid to ask the tough questions about custom requirements. The deeper you ask, the more you can understand the strength of this wholesaler.
(2) Choose the suitable B2B platform
For example, the Alibaba platform. Alibaba was founded in 1999 and established the standard specifications for B2B websites. At present, Alibaba has more than 8 million registered members in more than 220 countries and regions around the world. Alibaba also cooperates with influential companies in the world's top 1000 and China's top 500 industries, and guides and screens Chinese suppliers. Generally speaking, foreign trade companies with certain strengths in jewelry, clothing, textile, machinery, and other industries can choose to buy from the Alibaba platform.
3. Finding a Jewelry Wholesaler through Exhibitions

Trade fairs are one of the most powerful ways to build and grow a business. These activities are designed to connect retailers with distributors and manufacturers. And even more amazing, due to virtual communication, the whole world is in our hands now. Finding a jewelry wholesaler has become a lot easier now as the world's most famous and prestigious jewelry exhibitions can be witnessed virtually as well.
Some of the most eminent jewelry shows like Hong Kong Jewellery and Gem Fair, Baselworld, The JCK International Jewellery Show, International Jewellery Exhibition of Tokyo, etc. can be witnessed live in the comfort of your living room. 
 
Advantages of the exhibition:
(1) You can save communication cost
If you already know the industry in which you want to start selling, it is best to check the local exhibition. In this way, you can meet with wholesalers in person, ask them questions, and start to connect with them. Trade shows allow you to meet and talk with dozens of wholesalers or manufacturers in one day. These face-to-face conversations can often avoid misinformation or communication difficulties that may arise when contacting people online.
(2) You can have the fastest trend awareness
On the exhibition, you can find most of the world's leading brands under one roof during such jewelry shows or exhibitions. These types of exhibitions showcase the latest jewelry trends, a wide range of wholesalers, and exciting business opportunities altogether. This can be a game-changer for your wholesale jewelry.  Meanwhile,  It can also save you time waiting to receive samples of products you are interested in, and you will have the opportunity to complete the transaction immediately, so you may want to consider participating in such activities. 
 
Disadvantages of the exhibition:
(1) Chaotic management
With the vigorous development of the exhibition industry, the phenomenon of homogeneity has become increasingly serious. The management mechanism of sponsoring companies is not perfect, and the threshold for exhibitors is getting lower and lower.
(2) Not keeping pace with the times
Many of the participants in the exhibition are companies with outdated concepts. They don't know how to chase traffic dividends and are still stuck in the trade model 20 years ago. Therefore, the trade terms they are willing to provide are usually lagging behind.
 
Precautions of the exhibition:

(1) Choose the right exhibition

Big exhibitions are not suitable for every buyer. Before participating in the exhibition, you need to make specific observations, understand the advantages and disadvantages of each exhibition, and then combine the company's situation to select the appropriate exhibition.  If the product you want to purchase is one of several types, it is best to choose a professional industry exhibition. If your products are diversified, you can choose a comprehensive exhibition in order to find more abundant supplier resources.
(2) Prepare in advance
Before the start of the exhibition, obtain the list of exhibitors to participate. If possible, please try to arrange some meetings in advance, which will help you identify and prioritize whom you want to talk to before you leave. Please note that it is necessary to have some key statistics and be prepared to answer questions about your issuance requirements. This is because distributors may want to understand your business to determine whether you can establish a good partnership.
 
4. Finding a Jewelry Wholesaler through Social Media

Social media can be one of the most productive platforms to help your search for a jewelry wholesaler online. Be it Facebook, Instagram, or even Linkedin, you can find a credible jewelry wholesaler in these virtual niches.   
 
Advantages of social media:
(1) Contact more wholesalers
Research shows that there are 20 million hours a day on Facebook in the UK, and Facebook is the second most visited website in the UK after Google. A survey found that Facebook has more than 1.5 million business pages, and 32% of the British companies surveyed are active on the site.
Don't forget the countless other social media sites, such as Twitter and LinkedIn. Twitter has more than 500 million users, and users post 1 billion tweets every week. On any social media platform, LinkedIn provides three times as many potential customers. The information age has caused people to use social networks to market to companies, so the potential impact is huge.
(2) Know more about wholesalers
Most wholesalers will choose social media for marketing, by displaying their products and providing interesting and stimulating stories to better convey brand value. At the same time, social media makes real-time communication possible. Social media platforms such as Facebook and Twitter have become channels for asking and answering questions.
Disadvantages of social media:
(1) The authenticity of the page needs to be doubted
Morphing and copying authentic page content and creating a clone page is not that difficult for the virtual fugitives. They can do such stuff easily to dent you both, mentally and financially. 
(2) Slow search speed
Social media can help us understand a wholesaler from a three-dimensional perspective, but accordingly, it will slow down our search speed, and we cannot quickly find a large number of candidate wholesalers.
 
Precautions of social media:
(1) Confirm the authenticity of the information
Always ensure the authenticity of the page whether you are on Facebook, Twitter, or Linkedin. Always check for the trusted blue badge on the page for authenticity. If you find anything suspicious report it virtually straight away. Look for a physical address in the address section and a number. While you are at it, try calling the customer care of the wholesaler as well as this process will help you immensely in ensuring the authenticity of the seller.
(2) Combine other channels
Social media is more suitable as an auxiliary tool. After we find enough wholesalers and filter them, we can further inquire about other company information, like brand stories, custom projects, and consumer reviews.
5. Concluding Thoughts about Finding wholesalerS

This is a guideline compiled with the help of seasoned jewelry artisans and industry insiders and by keeping these guidelines handy while you are searching for a reliable jewelry wholesaler, you are bound to succeed. With a meticulous set of requirements that clearly define your budget, proximity to the wholesaler, the quantity of jewelry you require, and the type of jewelry you are interested in purchasing, only then will you be successful in finding the best jewelry wholesaler. The World Wide Web does make things easy, but it is also filled with unforeseen risks. Ensure your safety by dealing with only reliable jewelry wholesalers by using the tips mentioned in this ultimate guide!