Deposit $100 to get started on your CAD custom design, which will be applied in full towards the cost of the piece if you decide to move forward with the project.
We will make your design after your payment, and then we will give you the price quote in multiple sizes and different material sets, to help you decide which one you would like.
About FIRE AND BRILLIANCE MOISSANITE 
Brilliance is the colorless light that is reflected from a gem, like Moissanite diamonds. A good cut is important to achieve good brilliance. Moissanite Diamonds that are cut too deep or not deep enough will seem duller. If you look at a Moissanite diamond face up, you'll see that the facets create some areas of brightness and shadow. 
Fire, on the other hand, is light dispersed across a Moissanite diamond that exhibits flashes of rainbow colors. A diamond with a balance of both is the ideal that every cutter strives for.
If your diamond is always interspersed with white and rainbow sparkles, it is a good choice no matter which way you move the diamond or from which angle you view it.  In KRKC, you will find that our Moissanite Diamond pendant is high performance in fire and brilliance under different lighting conditions.
Product Details of Moissanite Pendant
Moissanite Hip Hop Pendant

* Material

925 Silver/Moissanite Steel with a gold plating

* Finish

5 times plating for an everlasting shine

* Stone Type

Moissanite Stone

* Clasp Type

Double-Locking Custom Lock Box

* Size (mm)

1 inch - 4 inches / accept custom

* Qualiity&QC

Top quality, Lead, Nickel and Cadmium free.
All products will be checked by QC before packed and shipment

* Logo 

Also 1pcs can be customized

* OME&ODM

Available

* Delivery times

1. DHL, SF Express:1-2 working days
2. YunExpress: 7-10 working days

* Package Content

a Pendant
Features of 

Moissanite Pendant:

1. Our Pendants are high quality and rank top in hip hop jewelry game.

2. All of our products use prong setting, not glue setting. Prong setting makes products more bling shine and assures no stone falling.

3. Every CZ stone are hand-selected 5A quality, which are totally clean and transparent, similar shining with real diamonds;

4. We adopt 0.3u gold plating for 5 times, so it won't turn your skin green and assures no color fading for at least 1 year. Many competitors use 0.1u-0.2u gold plating, so the jewelry will lose color within 2-3 month.

5. We use brass and silver as base material which can do prong setting as real gold and diamond so. For those who use stainless steel as base material, the stones are set by glue.

6. Our Cuban links and tennis chains are the cheapest among the top 3 suppliers on Alibaba (MIXXS JEWELRY, YXS JEWELRY, BLXXG JEWELRY)
Customization of Moissanite Pendant:
Customized logo (Min. Order: 1 Piece)
Graphic customization (Min. Order: 1 Piece)
Customized packaging (Min. Order: 100 Pieces)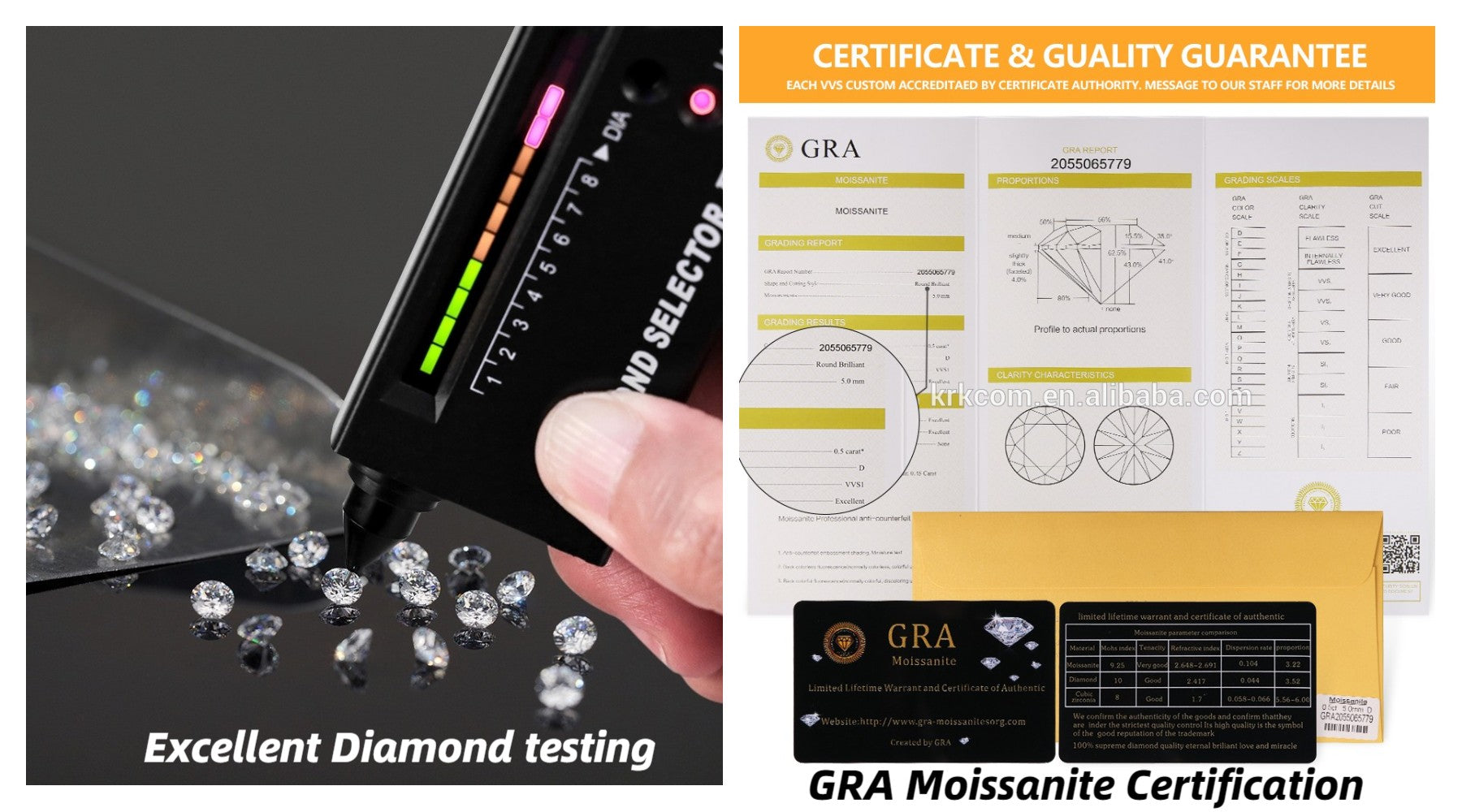 Certificate
Click the following Links to Gain More Details